ABOUT WORMTOWN TRADING CO.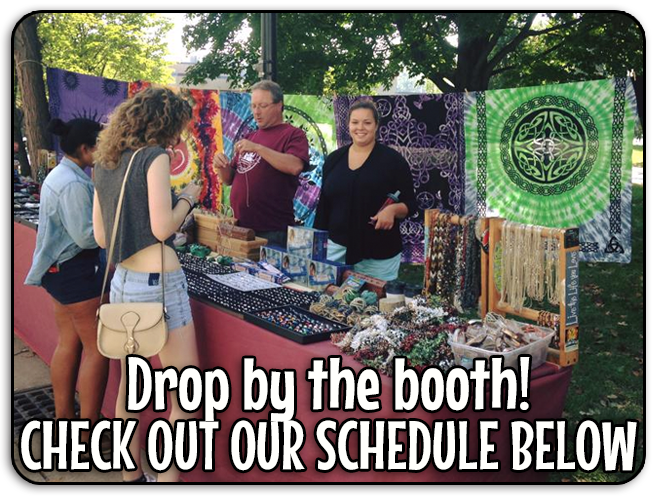 Wormtown Trading Company, founded in 1996, is at heart a friendly, homegrown business started in Worcester, MA, to bring quality, eclectic, mostly hand-made goods from around the world to the people who enjoy them — at festivals, fairs, campuses, concerts, and now via online shopping too. Along the way, starting in 1999, Wormtown Trading Presents began another tradition — throwing our own festivals and other musical gatherings. Giving back to support the communities we are part of has always been part of the 'Wormtown Way.' Today, the StrangeCreek Campout and Wormtown Music Festival provide gathering places for our colorful community at large, and our wide-ranging vending operations keep us in touch with friendly folks all over the country, from Tucson to Florida to woods of New England.
WHERE IN THE WORLD IS WORMTOWN?
September
2-5 Woodstock Fair – Woodstock CT
2-4 Sober in the Sun – Rutland, MA
2-4 Sterling Stage – Sterling, NY
2-4 Spencer Fair – Spencer, MA
6-7 University of Hartford – Hartford, CT
8-9 Eastern Connecticut State University – Willimantic, CT
10-11 MusicFest at Wachusett Mountain – Wachusett, MA
12-13 Western Connecticut State University – Danbury, CT
14-15 Phil & Friends – Coney Island, NY
14-15 Salem State University – Salem, MA
16-18 Wormtown Music Festival – Greenfield, MA
17-18 Boston Freedom Rally – Boston, MA
19-20 University of Rhode Island – Kingston, RI
23-25 Catskill Chill – Lakewood, PA
27 Clark University – Worcester, MA
28 Eastern Connecticut State University – Willimantic, CT
29-1 Westfield State University – Westfield, MA
29-2 Deerfield Fair – Deerfield, NH
30-1 Bear Creek Bayou – New Orleans, LA
October
30-2 Meeting of the Minds – Schuylkill Haven, PA
1-2 BBQ Fest – Wachusett, MA
3-4 Wesleyan University – Middletown, CT
7 Max Creek at the Met – Pawtucket, RI
7-9 NY Harvest Festival – Laurens, NY
7-10 Harvest Ball – Starks, ME
8-9 Haunted Biz Baz Street Fair – Salem MA
8-10 Scituate Art Fest – Scituate, RI
9 Oktoberfest – Cambridge, MA
13-16 Luna Light Festival – Darlington, MD
13-16 Suwannee Roots Revival – Live Oak, FL
14-16 Oktoberfest – Jacksonville Beach, FL
15-16 Apple Fest – Wachusett, MA
27-30 Hulaween – Live Oak, FL
29 Max Creek at the Stafford Palace Theater – Stafford Springs, CT
November
10-13 Riverhawk Music Festival – Brooksville, FL
18-20 Zen Awakening – Winter Garden, FL
For general inquiries please use the Contact form below:
To contact by phone
508-753-8882
For booking enquiries,
please refer to StrangeCreek.com/Battle-of-the-Bands
or email mark at wormtown.com.
For vendor enquiries
debbie at wormtown.com
For lost and found
derek at wormtown.com
For website and online sales
web at wormtown.com
To contact by mail
4 New Street
Oxford, MA  01540
LATEST WORM NEWS:
Hi friends! Riding the warm feelings from this past summer's Wormtown gatherings, many of you have been asking about early tickets to next year's STRANGECREEK … and we can finally let you know! Again this year we're offering a special,...
read more
Hello Fellow Worms! We already know we have a lot to be thankful for this year, and what better way to celebrate than a full night of music with our good friend ZACH DEPUTY – hosted by our friends at ELECTRIC HAZE in Worcester – the night before...
read more