---
It's all happening!
We're hurtling towards festival season with a full head of steam!


StrangeCreek Campout

in May

and
Wormtown Music Festival in September
are taking shape and coming on fast!
---

*NOTE! Our super special deal on Wormtown Festival tickets runs til 4/20..
and comes with a free limited edition shirt with EVERY TICKET purchased!
…But these things don't run themselves, and our proud team has room for more… maybe YOU? Signups for StrangeCreek volunteers are extended to April 20,
so you still have time (if you sign up soon) to not only earn your festival ticket but also feel the pride that comes with being part of these fun, colorful events!
---
In other news, this year's StrangeCreek Battle of the Bands concluded on April 1, and we're proud to welcome EASY ON THE MAYO to the lineup as winners of the coveted 
Saturday
 cabin set – be sure to check them out! We should also mention that we liked the other Battle finalists so much we're going to fit them ALL in on the bill — so we ALSO welcome Celebrity Lookalikes, the Trichomes, and Shokazoba to the already jam-packed lineup for May. We're so proud of all the great talent in our region, and hope you keep supporting live local music so we can all keep enjoying this bumper crop of local musicianship together.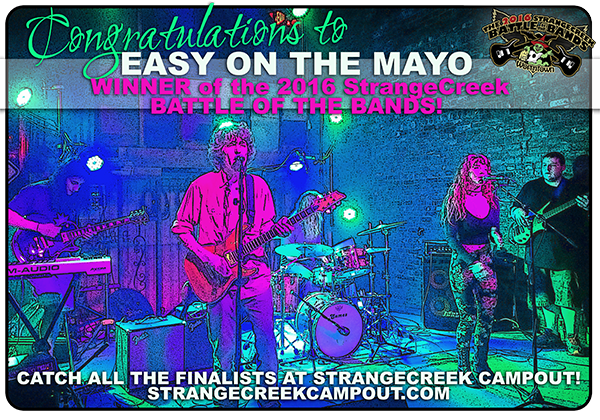 ---
Stay tuned for more updates coming at you as the season turns
towards the most FUN time of year!
Take care of yourselves in the meantime,
and we'll be seeing you soon!Cheers,
The Worms