Howdy Worms!
We hope you're keeping warm in these last days of winter. March Madness has begun and we are excited to bring you last week's results from the StrangeCreek Battle of the Bands.

The Live Battles have begun…
MONDAY…. the Live Battle Rounds started up at Nectar's. Kudu Stoogekicked it off to a healthy crowd, and Super Stash Bros kept the energy up, followed by Fiddle Head for a night of good old fashioned rock and roll. It was a close call with some really talented musicians in all bands, but in the end Fiddle Head built a strong bond with the crowd, ultimately winning this first battle and moving onto the regional semi-final at Nectar's on Monday, March 26th.
TUESDAY… brought us to Bishop's Lounge, where Breakfast Lunch and Dinner started us out with their rocking style. Next: groove band, Squires of Soul, showed us their unique upbeat sound. Last up was Amherst's Yookeroodemonstrating their style of progressive fusion. In the end, Yookeroo's musical excellence shone through and they will move onto the regional semi-final round at Bishop's on Tuesday, March 27th. A full review, including complete audio from this battle can be found at Live Music News and Review.
WEDNESDAY… we were forced to postpone the night's battle at The Main Pub due to weather. The battle is being rescheduled to March 28th, and the Manchester regional semi-final will be moved to April 4th.
THURSDAY… we picked it up again with the first round at Ocean Mist. Battling it out was Slack Tide, a fun young band; The Womps, with their unique sound; and Northeast Traffic with a tight sound and a good crowd. Like all the battles, it was a tough choice but in the end Northeast Traffic was sent on to the regional semi-final round at Ocean Mist on March 29th.
Round 2 starts TONIGHT at Nectar's! RSVP to your regional Battle Event Page @WormtownTradingCo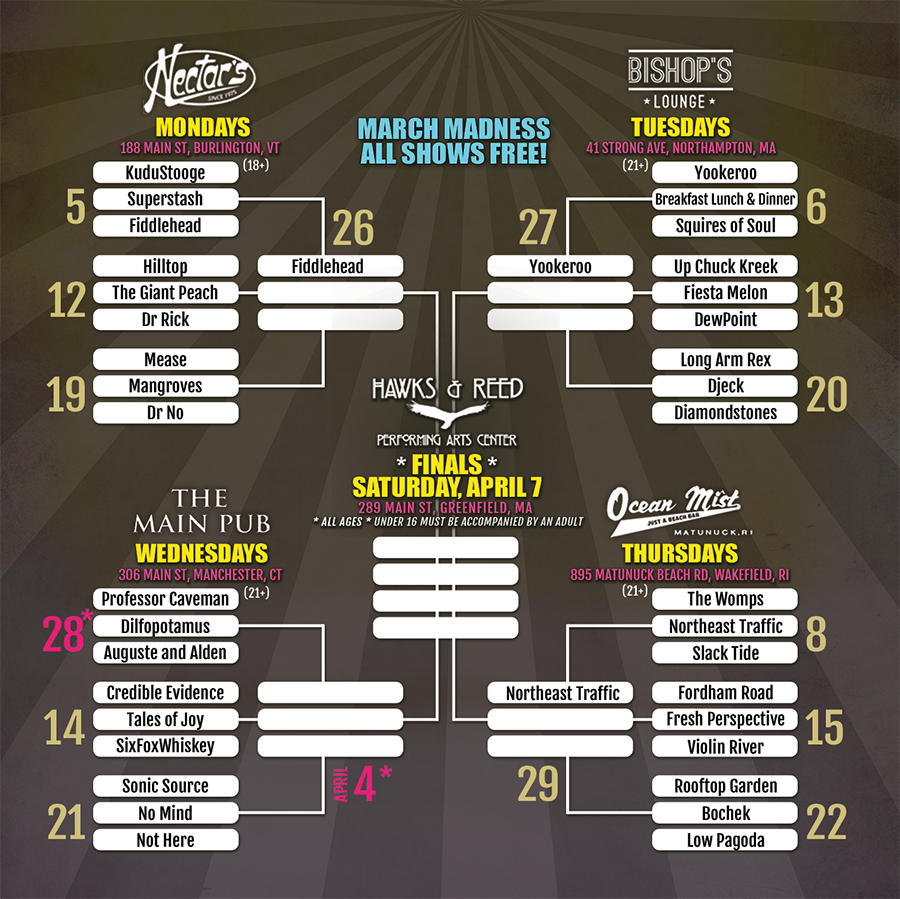 All the bands are so different, and there are so many talented musicians in the northeast, so it's always an arduous task by our judges! Help them out by joining our dance floor jury as our friendly battles rage on throughout March — and get your feet in good foot stomping shape for our get together in the Spring while you're at it!
And on that note… if you haven't picked up tickets yet for StrangeCreek Campout, weekend passes are still available at $140. You can get them online or pick them up at local ticketing outlets. We've added an outlet in Thompson, CT! Find an outlet near you at StrangeCreek.com. Or, if you're old school, we've got mail order!
But get those tickets before May 13th before the price goes up again! We are more than just a little excited to see you at Camp Kee-WaNee in a couple months…
Much Love,
the Worms