Hi Everyone, and happy 2017! 
It may be hard to tell with all the snow, but days are getting longer, the sun getting stronger, as we slide slowly towards SPRING and all the fun it brings.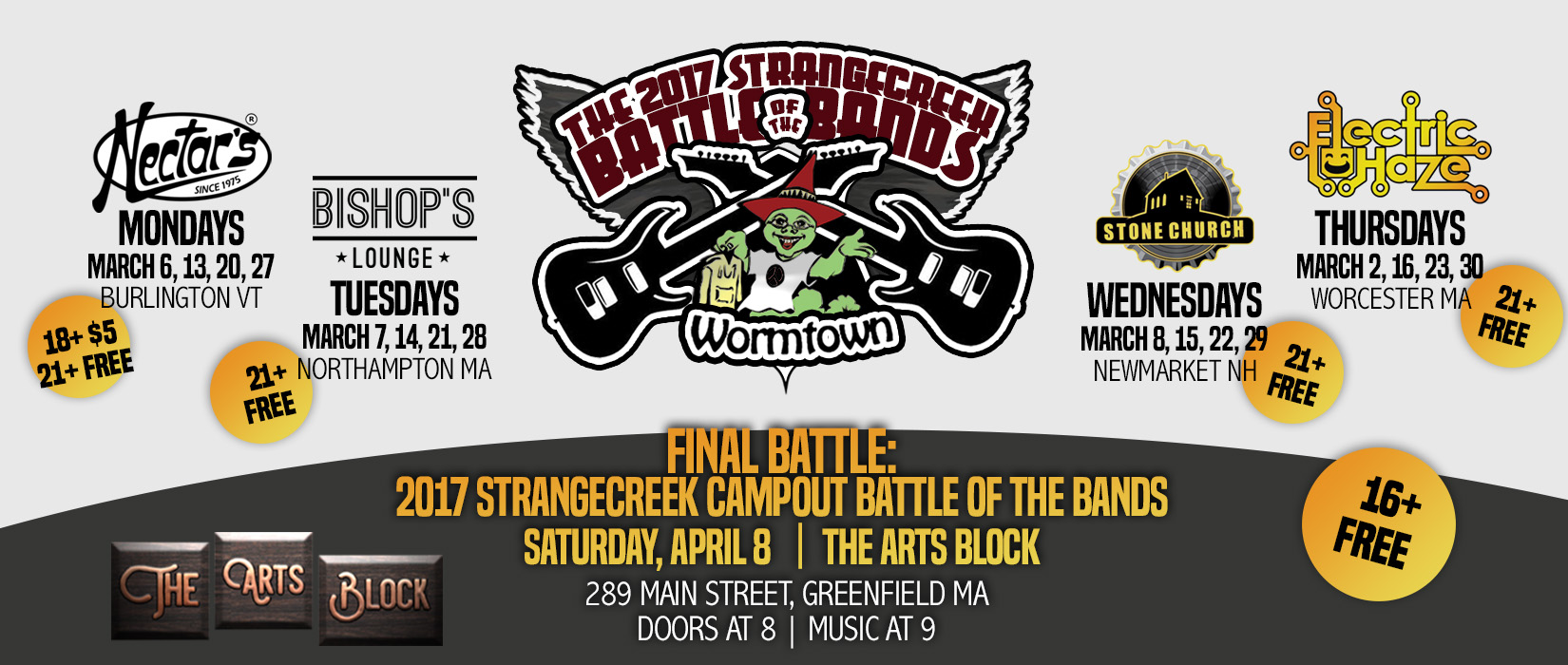 Up-and-coming regional BANDS are already signing up for this year's StrangeCreek Battle of the Bands! You still have time to sign YOUR band up HERE, and you can vote your favorite band "in" HERE… the top vote-getters will be competing LIVE at four venues across New England – including a NEW spot this time around, the legendary NECTAR'S in Burlington VT! Voting ends Feb 10, and specific battle lineups will be announced right after, so get in on the fun – and then ROCK OUT with us at these fun battles all through March… all leading up to the big FINAL BATTLE at THE ARTS BLOCK in the hometown of StrangeCreek, Greenfield MA, on Saturday April 8! All info & schedules HERE. And remember, if you're 21+, all battles are FREE*! (*$5 for under 21 at the Nectar's battles) So come help us find the next great talents for our festival stages!
Later this month, our friends at BULL MANSION are hosting a benefit to help legendary pedal steel player BUDDY CAGE (of our good friends New Riders of the Purple Sage) with medical expenses as he fights cancer. The lineup is stacked with Dead-friendly favorites including Playing Dead, Kind Budd, The Knot, Don't Let Go, The Peacheaters, and Strangefolk's Luke Patchen, among others. This will be a special night at a special venue for a great cause, and we hope you can join us. RSVP to the event page HERE.

And as we beat it on down the line to where those chilly winds don't blow, remember that tickets to STRANGECREEK CAMPOUT 2017 are ONLY $110 now through Valentine's Day (Feb 14), so you can still save big by getting your ticket to good times locked down early!
Meanwhile, stay warm, keep it grateful, and be good to each other!
Love,
The Worms