Hello Friends!
We're busy and excited over here getting ready for STRANGECREEK NEXT WEEK!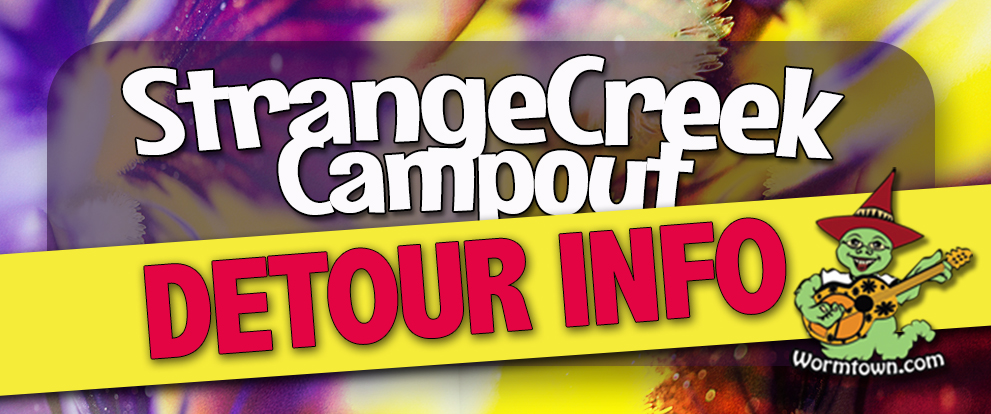 DETOUR! Firstly, as everyone makes plans to join us back at our annual festive home, Camp Kee-Wanee, we need to get the word out about a slight detour due to heavy construction on the road in. PLEASE check out these revised directions, and pay attention to the signs to avoid getting lost. This should only affect this show, but we want to help everyone find their way home to StrangeCreek as smoothly as possible!www.StrangeCreekCampout.com/Directions
MORE TO DO! Our gatherings are more than just a big music party – we have whole areas dedicated to activities for families in our Family Camping area, and pursuits that nourish body, mind and soul in our Holistic Village. We encourage you to check these areas out while you're with us, and we hope you'll find something you (or your kids!) can enjoy to round out your weekend. Check out our Family & Holistic activity schedules: StrangeCreekCampout.com/Schedule
And in case you missed our previous updates…
THURSDAY… For those who didn't catch the earlier updates, we are again allowing early entry on THURSDAY – for an additional $30 per person, payable at the gate AFTER 3pm (no really, don't even try before 3, we'll still be setting up). This will apply to anyone entering before gates "officially" open at 9am on Friday. And for those who come early, we have music in the cabins that night, with Erin Harpe & the Delta Swingers, Riders on the Storm, The Trichomes, and "Hare Meddle" – a big fun 80's Dance Party courtesy of the COSMIC DUST BUNNIES!
SUNDAY… As in years past, single-day tickets will be available (only) on SUNDAY. They'll be $60 at the gate, and DO include camping overnight into Monday. PLEASE NOTE: Tents should be down by NOON on Monday, and campgrounds clear by 1pm (strict!), so please plan accordingly for a SAFE drive home!
And don't forget — STRANGERS HELPING STRANGERS will be collecting non-perishable food and hygiene donations all weekend, so please consider pitching in to help local families in need – you can make a difference! Top donors are eligible for prizes! Let's show Greenfield that we care!
More soon, stay tuned!
Cheers,
The Worms
---
---