Howdy Worms!
As November tilts towards Thanksgiving, we're gearing up for our big party the night before the holiday as ZACH DEPUTY returns to ELECTRIC HAZE for a night stuffed with music – 2 shows, 2 sets each!
Get your tickets in advance HERE (http://electrichaze.bigcartel.com/product/zach-deputy-2-shows-4-sets) . and don't forget, these shows are the ONE time you can get STRANGECREEK CAMPOUT 2017 tickets for ONLY $85!!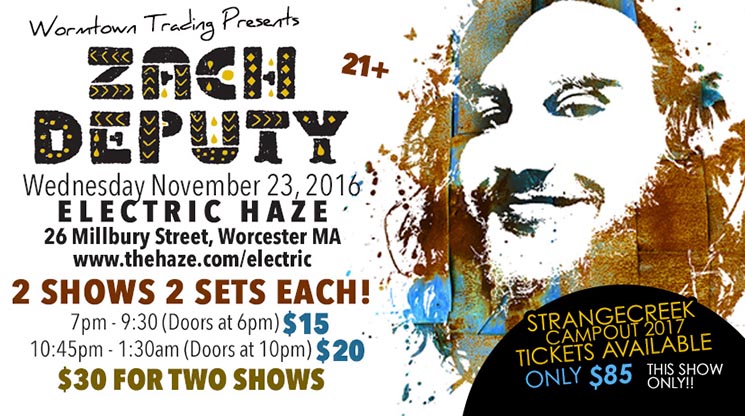 THEN, hot on the heels of the holiday, STRANGECREEK CAMPOUT 2017 TICKETS go on sale Online AND via Mail Order on "Cyber Monday" (NOV 28) at a super-low price – only $90 for the weekend pass! – AND you get a free t-shirt with every ticket you order!.. so be sure to indicate your shirt size(s) when you order! You can order through our TICKETS page starting that morning. NOTE! This is a limited time offer ending at midnight on MONDAY DECEMBER 5! (Tickets will be available for only $100 from 12/5 through New Year's Eve, but will not include the free t-shirt; Mail Orders ~must~ be postmarked Dec 5 or earlier to get in on this deal!)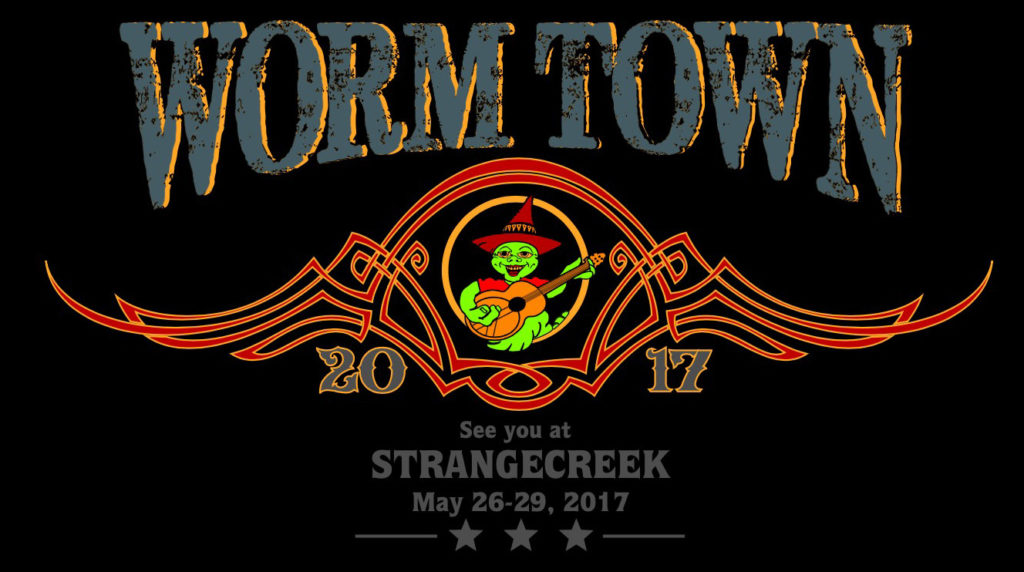 JAM ON THE HIGH SEAS! Winter's comin'.. but you can escape to the balmy Caribbean with some of Wormtown's favorite bands in March, as MAX CREEK, DONNA THE BUFFALO and the ADAM EZRA GROUP set sail for musical adventures on the SOUNDS OF THE SEA "Music Festival Cruise"! Details & cabin packages available here: www.soundsofthesea.net.
Friends Pitching In! Long-time Worm Mike "Papa Bear" Slavic is organizing a trip to aid the pipeline protesters in North Dakota! He's leaving soon with truckloads of supplies for the Native American tribes and their allies who oppose the pipeline to protect their precious water supplies. Wormtown is sending hundreds of gloves, it gets cold in ND! If YOU want to pitch in, start HERE: www.gofundme.com/c9j48a5b
Keep your heads up in these trying times, friends, and don't forget to BE GOOD TO EACH OTHER. We love you!
More soon,
The Worms