Hi All,
These festivals take months of planning, and so even as we're only a few weeks out from StrangeCreek Campout in May, we're already laying the groundwork for the 18th Annual Wormtown Festival, coming September 16-18!

We already know we'll have MAX CREEK, ZACH DEPUTY, RYAN MONTBLEAU, PINK TALKING FISH, THE ALCHEMYSTICS, SHAKEDOWN, THE ROMANO PROJECT, REV TOR'S LAST WALTZ LIVE, BANOOBA and THE BROADCAST joining us, and we hope you will too –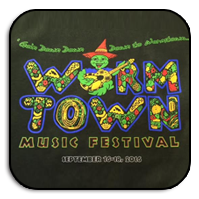 so we're offering the earliest tickets at the lowest price, only $85 each for the full weekend pass from April 1 to April 20! And to further show appreciation for the early support, we're throwing in a (very) limited-edition Wormtown Festival shirt with every ticket you order! Limited Edition Tee with every ticket purchased until April 20
Please note: This offer is available through online purchasing only.. you can place your order HERE (Be sure to indicate t-shirt size(s) with your order! XXL now available!)
All orders will be mailed on May 1st.
We hope you'll come party with us this FRIDAY APRIL 1 at our StrangeCreek Battle of the Bands FINALS showdown at ELECTRIC HAZE. These Finals are always a rocking time as they showcase bands who've already shown they're great by playing their way through the preliminary rounds. This year it comes down to Easy on the Mayo from CT, Celebrity Lookalikes from Boston, the Trichomes from New Hampshire, all throwing down to win that feature cabin set at StrangeCreek. And the show is FREE!
And a Worm to the wise: if you don't have your tickets for our show with The Ryan Montbleau Band NEXT FRIDAY, APRIL 8 – also at Electric Haze – you might want to hurry… this intimate concert will probably sell out in advance.
Have a great day!
Cheers,
The Worms